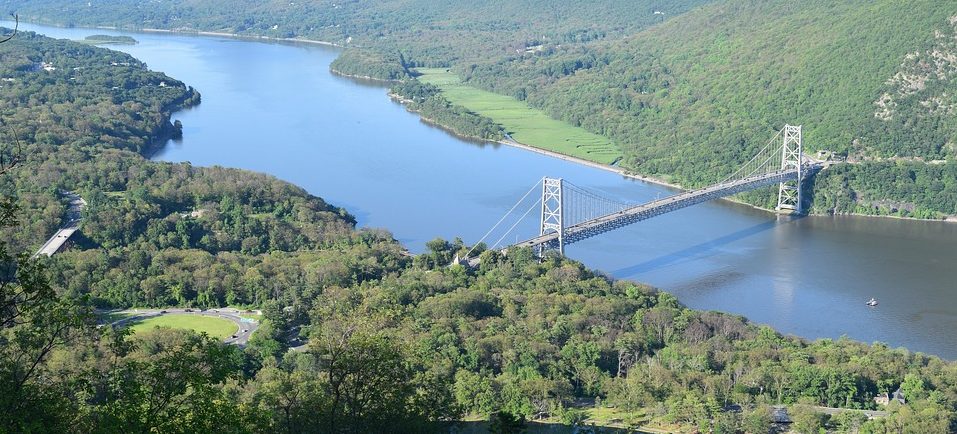 Are you planning a move out of the state? Maybe you just got a new job? Or maybe you are just looking for a fresh start?
Whatever your reasoning may be, you have a big move ahead of you. We highly recommend you consider using the help from a professional out of state mover. So, when you're asking yourself, "who are the best out of state moving companies near me," you should be considering the professional out of state movers at Triangle Movers.
Our Poughkeepsie out of state movers have the expertise, equipment and resources to provide you with a great move.
Triangle Movers is a full service moving company that can help you with your out of state move from Poughkeepsie, NY. We are a local family-owned and operated moving company that has been providing exceptional moving services to Poughkeepsie residents and businesses for more than two decades. Triangle Movers is the trusted name in long distance moving all throughout the Hudson Valley region.
With our positive reviews and long record of successful moving experiences, you will be guaranteed that the long distance moving services we provide you, will exceed your expectations.
Out of State Moving Services in Poughkeepsie
When moving to another state from Poughkeepsie, NY you are faced with a big task that takes a lot of preparation. Moving to another state can be an exciting time for you and your family, but the amount of work you need to put in to ensure the move is successful can be extremely overwhelming…especially if you have never moved across state lines before.
Luckily, Triangle Movers is here to help. Being in the moving and storage industry since 1996, we have learned the best methods for making your out of state move go as smoothly and efficiently as possible. If you are moving to another state from Poughkeepsie, you need a full service mover. Triangle Movers is the best full service moving company. That means we can offer you a variety of moving services to help with your out of state move from Poughkeepsie, NY.
One of the biggest tasks everyone faces when preparing for a long distance move is packing. It is a time-consuming process and if not done correctly could result in frustration and problems down the road. That is why we offer all our clients our packing and crating services. We can provide three types of packing services all depending on what you require or prefer. With our full-service packing, our professionals movers will pack up your entire house. This includes everything from your bedrooms, to garages and even attics. Our partial packing services are for when you want a professional to help with your more fragile items. As experts in moving, we know the best methods for safely storing and transporting all fragile valuables. This can include anything from your dishes to priceless antiques. If you wish to do the packing on your own, we suggest our self-packing services. We can provide you with the proper boxes, packing paper and materials you may need. During your move we are just a phone call away and can provide you with effective packing tips and suggestions to help you during the process.
We are as well an interstate agent for Stevens Worldwide Van Lines. This provides us with the resources to complete any move no matter the size or distance. With Triangle Movers, you will have access to over a hundred different moving agents who can provide you with great moving services during your journey. Stevens is known for providing customers with world-class moving experiences. They are an internationally recognized leader in the moving industry throughout the world.
Professional Long Distance Moving Company Poughkeepsie, NY
What makes a moving company great is their ability to provide you with exceptional moving services all while exceeding your expectations. We know that long distance moving can be a stressful experience. Our workers are dedicated to alleviating that stress for you! Our professional long distance movers strive to provide you with the best long distance moving experience as possible.
From the start of your out of state moving process, you will be assigned to one of our friendly moving coordinators. They will talk with you in determining the services you require as well as the budget you are working with. We do the best to create a custom moving plan tailored to your moving needs. What separates us from the competition is that we listen! From start to finish, we take the time to answer your questions and address your concerns. We know when you hire a long distance moving company, you are putting your possessions in the hands of complete strangers. With us, it will be different. Just like how every move is different, no moving company is the same either. We go beyond your expectations for a moving company. That is what separates our moving services from all other Poughkeepsie moving companies.
We set our standards above the competition and focus on providing you exceptional customer service and professional long distance moving services. When you trust a moving company to help with your long distance move, you need a mover that is experienced and can fulfill all your moving requirements. So, the next time you are looking for a long distance mover in Poughkeepsie, NY go with the professionals at Triangle Movers. Contact us today for any questions regarding our out of state moving services. To begin your next long distance move, fill out the online form found on this page and receive a free moving estimate. We are the moving professionals of Poughkeepsie, NY.