When it comes to moving your office, we highly recommend hiring the best full-service mover for the job. Triangle Movers are the Poughkeepsie commercial movers you need for your office relocation.
As a full-service mover, we can help you with the relocation of any of your equipment, office furniture or other assets that you need transporting.
Office Moving On Your Schedule
We will tailor our office moving services to your schedule. Our commercial moving services are built for any time frame to complete relocation with minimal downtime!
We understand that many office buildings have guidelines for elevator usage, when movers can be in the building and approving move dates.
Our team is available to work after hours and on weekends to ensure little to no disturbance to your office's day-to-day! Whether you are needing to move your office across the country or right down the street, we can provide you with a professional and affordable office moving services.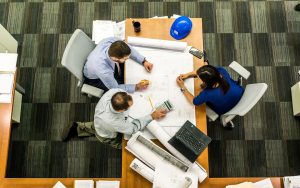 Trusted Office Relocation Company
Serving Poughkeepsie, NY since 1996
Triangle Movers has been the trusted name in residential and commercial moving throughout the Hudson Valley region since 1996. Along with our long distance and local moving services, we offer commercial moving services to fulfill your office relocation needs.
With years of moving experience, we have learned the best methods for handling, loading, transporting and unloading all types of office equipment and furniture. . From file cabinets to computer servers, our office movers safely and securely transport all your equipment or furniture. You can rely on our moving team to relocate your office possessions safely and efficiently, ensuring that everything will arrive in the same condition that you had left them.
Commercial Moving Services Poughkeepsie, NY
As the reliable Poughkeepsie commercial movers, we want to help make your office relocation as smooth and efficient as possible. An office relocation in itself can be a very tedious task. Planning a commercial move presents different challenges as opposed to a typical residential move. We have the experience moving the following types of office equipment including but not limited to: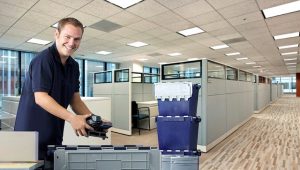 File cabinets
Office furniture
Computer servers
Electronic equipment
Laboratory equipment
As a business owner, we know that your office can't afford to stop just because you are relocating. One of the biggest challenges associated with office relocation is the interference to your business's day-to-day operations caused by your moving company. We understand the concern you have with interruptions to your daily routine.
Triangle Movers can handle your office relocation regardless of the destination. As partners with Stevens Worldwide Van Lines, we have access to multiple resources that are required for completing your office move.
With Triangle Movers, you are getting the personal touch that comes with a local Poughkeepsie mover, as well the equipment and expertise from a larger national van line. No matter the distance, we can safely transport your office and IT equipment.
Our Professional Office Moving Company in Poughkeepsie
As a professional office moving company serving the businesses of Poughkeepsie, we go the extra mile to ensure you a complete and successful office relocation. We have streamlined our commercial moving services to be cost-effective and time efficient. We can get the job done quickly and affordably so your business doesn't lose out.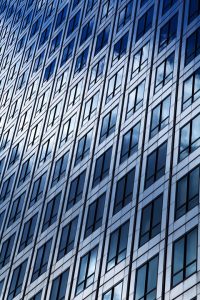 In the moving and storage industry, we understand the importance of customer service. That is why we strive for complete customer satisfaction when it comes to moving your office. When you choose our commercial moving services, you will be assigned to one of our friendly moving representatives who can walk you through every step of your office relocation in Poughkeepsie.
We take the time to ask the right questions in order to understand your moving requirements and needs. From there, we build an office moving plan customized to your budget and required services. From start to finish you will know the status of your office move and our representatives will happily answer any questions or concerns you may have during the transition.
Free Poughkeepsie Office Moving Estimate
To get started on your office relocation to or from Poughkeepsie, NY today contact us to speak with one of our moving representatives. For a free moving estimate fill out the online form found on this page. Remember, the next time you are looking for the best office moving company in Poughkeepsie, NY, go with the professional movers at Triangle Movers.