Quick Read
When you're moving from the Hudson Valley to Pennsylvania, there's only one choice: Triangle Movers. We make long-distance moves simple with all of the services you need for a stress-free move, including
Full Service and Specialty Moves
Perfect Fit for Residential and Commercial Moves
Packing and Unpacking Services
Warehouse Storage with Climate Control, Pest Control, and 24/7 Surveillance
Those are just a few reasons why Triangle is your best option. We've been in business for more than 35 years and have a great reputation. Here are some of the things that set us apart from the rest:
A agent of Bekins Van Lines
Member of the Preferred Movers Network
Fully Licensed, USDOT 2256609
Fully Insured, General Liability and Workman's Comp
Winner of the Spire Quality Award from Bekins Van Lines
A+ Rating from the Better Business Bureau
Get your free quote today by filling out our simple Free Quote Form. For any questions, give us a call at [phone].
When you hire Triangle Movers, you're hiring the best to take you from the Hudson Valley to Pennsylvania. We can handle the most unique demands for any type of move with a professionally trained crew and the best in customer service.
Our Hudson Valley to Pennsylvania Moving Services
After more than 35 years in business, we know what it takes to do a successful long-distance move. That's why we offer a full menu of services to meet your every need. These moving offerings include the following:
Our moving services can cover your entire move with a full-service moving option that includes packing in the Hudson Valley and Unpacking in Pennsylvania
We can handle any type of move, whether commercial or residential
Specialty moving experience, including pianos, gun safes, and more
Don't need everything at once? Use our warehouse storage with confidence, knowing your precious possessions are stored in a climate-controlled, safe facility.
We're happy to tailor our services to meet your needs, so just ask. We're known for our stellar customer service–just take a look at our Google review. You'll find that when it comes to moving, Triangle is your top option.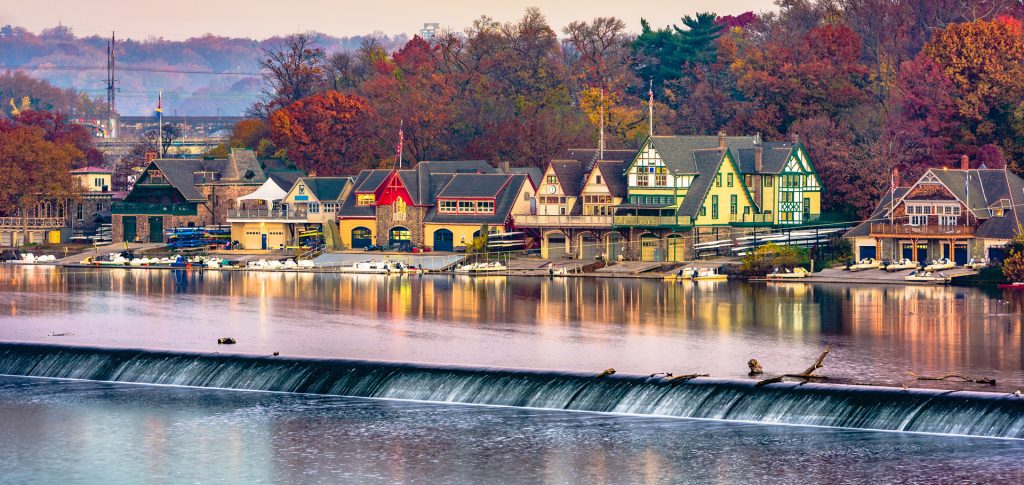 Comparing the Hudson Valley and Pennsylvania
The Hudson Valley and Pennsylvania aren't too far apart and have a number of things in common and some things that set them apart, including
Nature: Both the Hudson Valley and Pennsylvania are tree-filled, with beautiful autumn foliage and plenty of places to commune with nature.
History: The Hudson Valley and Pennsylvania were both very important players in the founding of our country, and both have plenty of historical sites to visit.
Cost of Living: It's about 12.5% cheaper to live in Pennsylvania than in the state of New York.
Population: Pennsylvania give your more room to spread out – it is much less crowded than New York, with fewer people per square mile.
Keep these things in mind when planning your budget and what you'll be doing when you move from the Hudson Valley to Pennsylvania.
What to Look for in Out-of-State Movers
As you look for long-distance movers to take you from the Hudson Valley to Pennsylvania, you'll see that there are a lot of options. But not all movers are trustworthy, and you have to be careful about scams, especially when moving long distances. Let's narrow down the field so you can get one step closer to finding the best moving company for you. Take a look at this list of what to look for in out-of-state movers:
Affiliation with a major van line. This affiliation means your mover has hundreds of agents coast-to-coast ready to help you and solve any issues that come up.
Valid Licenses: For a move that crosses state lines, movers need a USDOT number by law. You can typically find these license numbers in the footer of your potential mover's site. If you don't see them, move on.
No Hidden Costs: Moving from state to state can get expensive. Many movers take advantage of this by adding more and more costs that you don't know about until it's too late. Focus your search on movers that offer flat rates and no "mystery" costs.
When you use these tips, it will be easy to find the perfect moving partner for your needs.
Request Your Long-Distance Moving Estimate
With Triangle, your move is done by a long-distance moving company that's fully licensed (USDOT 2256609), fully insured (General Liability and Workers Comp), and an affiliate of Bekins Van Lines with coast-to-coast coverage. Plus, you can feel confident knowing that with us, there will never be hidden costs.
Request your Hudson Valley to Pennsylvania moving estimate today. To send in your request to Triangle, fill out our simple Free Moving Estimate Form. And if you have any questions, just give us a call at (845) 566-0288.