International Movers

Triangle Movers is the Hudson Valley's trusted international moving company.
International relocation is an exciting time for anyone who is urging to get out and explore the world. For all international relocations, however, you need to hire the best international mover in your area.
Planning a move this large is not to be taken lightly. Dealing with customs, filling out all legal paperwork and learning about the culture, international moving presents a whole new set of challenges added on top of the moving process.
You need a mover that can handle every moving aspect from customs clearance to shipping your household goods.
That is why if you are planning an international move from Westchester, Orange or Dutchess County go with the reliable moving services provided by Triangle Movers.
Triangle Movers can help you plan, coordinate and manage your international move. With over 35 years of experience in the moving industry, Triangle Movers are the experts that can provide high quality local, long-distance and international moving services to the residents and families in the Hudson Valley.
International Moving Services In the Hudson Valley
Global moving is made easy with the services provided by Triangle Movers.
When you move overseas with Triangle Movers, our international relocation specialists will create a customized moving plan designed to make your move as smooth as possible all while fulfilling your requirements.
Our highly-trained and friendly staff will be more than happy to assist you with any questions or concerns you have and will handle any special requests.
Additional Services You Can Add To Your International Move Plan:



Whether you are moving overseas for personal purposes or part of a corporate relocation, chances are you will be returning back to the United States. During the time you are gone, you can store any expensive and valuable possessions you can't take with you. Your items will be kept safe in our secure and climate-controlled storage warehouse. We will keep your possessions guarded until you return.





Triangle Movers is also the trusted moving company for all government and military moves from the Hudson Valley and West Point. If you are being relocated internationally as a government employee or service member, we can assist you in your relocation needs. We are a GSA approved mover and can also assist in your PPM.





It is important to only ship overseas important items you need. If you are having trouble cleaning out your home before your move, we offer decluttering services to help. Our experts can help you donate, recycle or throw away any unwanted items you have in your home. Minimize what you are shipping by decluttering your home.



International Moving Across The Globe
Triangle Movers is an interstate agent for Stevens Worldwide Van Lines. Through our collaboration with Stevens, we are able to offer each of our customers a world-class international moving experience.
Stevens has more than 100 years of experience in international move management with access to over 180 countries. Steven's had a special division dedicated solely to handling international moves. They are ISO 9001 certified and a recognized leader in international moving throughout the globe.
International Moving Tips For Household Goods
As a moving company offering international moving services, we want our customers to be well-prepared for the journey ahead of them. Follow these simple tips to help with household goods moving: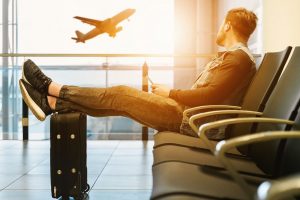 Declutter



Before packing, declutter your home of any unnecessary household goods you no longer use or wish to ship. This will ease some of the stress that comes with packing and will cut your overall shipping costs.



Identify the Necessities



Only pack the items you use on a daily basis. While inventorying your home, decide what items you can live a couple of weeks without. Anything you identify should be packaged for shipment.



Choose A Shipping Method



Ask your mover about the shipping method they use. The volume of your move will be the determining factor for how much it is going to cost to get your household goods to your destination company. That is why it is important to cut back on what you are bringing.



Travel Lightly



Only travel with your essentials. You are not going to want to be hauling around multiple suitcases at a foreign airport. Also, you should carry all your personal documents on you. An extra tip is to create a copy of everything and save it to a small portable hard drive.



Receive A Free International Moving Quote
Other international moving companies in Westchester, Orange or Dutchess County cannot match the reputable and exceptional services provided by Triangle Movers.
For your next international move from the Hudson Valley, choose one the most reputable international moving companies in the area, Triangle Movers. Triangle Movers has the resources and expertise to deliver the highest quality services.
We are dedicated to providing complete customer satisfaction. From the time you receive your moving quote until the last package arrives at your destination country, we will be with you every step of the way. Let Triangle Movers simplify your next international move.
For more information on our international moving services in the Hudson Valley, give us a call today at (888) 875-6683 to speak with one of our customer service representatives. To begin your international move in Westchester, Dutchess or Orange County today, fill out our online form and receive a free international moving quote.