Five Storage Tips for Moving In
Moving into a new home is exciting, and the process of packing is a large part of that. Packing involves a lot of time, effort, and supplies, so people are always searching for the most efficient storage methods. It requires a great deal of patience and organization, and things can easily get lost in the shuffle. The best way to combat this is to follow a specific packing plan. There are steps you can take to make the packing process smoother. Moving to a new house or apartment is a big deal. You should put your worries aside and allow yourself time to celebrate this special occasion. Treat yourself and make moving quicker and easier with these five storage tips.
Use stackable boxes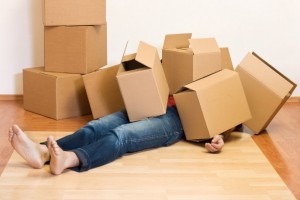 You probably want to use up as little space possible to make the moving process quicker. The more space you use up, the more trips you'll have to make and the more time will be wasted. Using different types of boxes will leave less space for everything to fit. Stackable boxes can save you a lot of space for the most efficient transition. Of course, you can always use the boxes for general storage after you're all done moving in, too.
Use the furniture space you already have
Remove the drawers from your dressers. You now have the dresser itself for storage along with separate drawers to store more stuff. If you're moving your refrigerator or stove, you can pack some of your belongings inside. Try designating those appliances to hold kitchen items only. You can also store bedroom items inside of your dresser. This will make it easier to keep track of where you store your things.
Wrap fragile items in clothing and towels
One of the most common packing tips you might have heard is to buy packing material to protect your items. Well, you might be able to skip that step. Save money on packing supplies and make use of what you already have. Use soft clothing, towels and sheets to wrap around your breakable belongings. Of course, packing material and other supplies may still be needed in the end, but at least you'll save money.
Breakable items go on top
Always pack the smaller or more fragile belongings on top. Doing the opposite will cause your precious possessions to get squished. Keep items like mirrors, glassware and ceramics on top of larger, sturdier items in order to avoid breaking something. Make sure there's minimal space left in the box to keep your belongings from moving back and forth during relocation.
Label your boxes
Mark each box with a label for each room. You can get more specific than that if you want. Organize the boxes accordingly. Try using colorful labels to separate the topics of each box. Assign each color a room in the house. This popular color-code method makes unpacking a breeze and it also makes moving more fun!
Now you're done and you're ready to move. Continue saving money by hiring an affordable moving company to finish the job. Triangle Movers Inc. is a trusted moving and storage company serving families and businesses in the Newburgh, Middletown and Hudson Valley areas. Our highly-trained professional movers provide exceptional customer service and a satisfactory experience. For more information on our storage units, visit our storage page or fill out our online form for a free quote!