Warehouse Storage
Quick Read
Triangle Moving & Storage offers you secure and convenient storage within our Hudson Valley warehouse.
By storing with us, we offer you services to make your storing stress-free including:
Climate-control
Daily monitoring
Convenient location
Access to nationwide storage locations
Full-service unloading and packing
You need a storage company that you can trust. We have:
35 years of experience
Flat rates with no surprises
A+ BBB Rating
Free estimates
To speak with a Triangle representative, give us a call at
(845) 566-0288
. To start storing with us, fill our a
free estimate form
.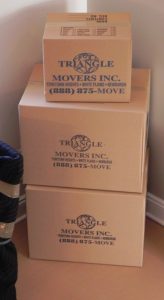 When it comes to moving, there are so many steps within the process that there are bound to be some problems that occur along the way. One of the most common problems people face when moving either their home or office space, is underestimating the amount of room they have at their new destination. This then presents the problem of finding a place to store the possessions you currently don't have the room for. Being a part of the moving and storage industry, we have seen this first hand. Whether you are downsizing or just don't have the needed room, you need a solution to temporarily store your belongings until you find the adequate space for your possessions. That is why at Triangle Movers we offer warehouse space to rent for our customers throughout the Hudson Valley.
If you are in search for the best warehouse storage near me in Orange, Dutchess, Westchester County or anywhere throughout the Hudson Valley, contact the storage professionals at Triangle Movers.
Hudson Valley Warehouse Storage Services
Newburgh-based Triangle Movers can provide you with a safe and clean storage space throughout the Hudson Valley. Whether it is only for a few days, or for a few years, the duration doesn't matter. We will keep your possessions safe and secure in our local storage facility.
Our Hudson Valley Warehouse Storage:
Climate-controlled space
Safe and secured
Monitored daily
Kept to the highest standards of cleanliness
Conveniently located
Access to nationwide storage facilities
When you store your personal belongings and valuables with Triangle Movers, you can trust that your items will be in safe hands. Our storage warehouse is maintained to meet the highest standards of quality and cleanliness. Climate control plays a big role in choosing the right storage facility because of the harsh weather our region faces yearly. That is why our warehouse storage facility is climate-controlled, protecting your belongings from the harshest Hudson Valley weather. Our warehouse management also strives to keep your possessions safe at all times. We monitor and keep our facility secured every day.
Convenient and Affordable Storage Services
Convenience is also a concern for a lot of people searching for reliable storage options. Not only is our warehouse storage facility conveniently located and easily accessible in the Hudson Valley region, but we also offer a unique storage service to make your life even easier. Our
home pickup and delivery storage solution
simplifies the storage process by minimizing the amount of work you need to put in. With traditional self-storage you are left with, finding your own way to transport your belongings as well as constantly monitoring your possessions yourself. The entire process is time-consuming and could end up costing you a small fortune. Below is a quick breakdown of our home pickup and delivery storage options:
Choose what you want to store.
We come and pick up your possessions from your location, and inventory them.
We store your belongings in our safe and secured warehouse facility.
When you want your possessions back, we deliver what you need directly to your front door.
It is that simple! You won't have to lift a finger! Speak with our moving representatives to learn more about our home pickup and delivery storage options.
Warehouse Storage Units from Coast to Coast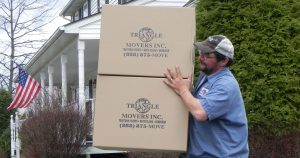 If you are planning an
out of state
move, it would make more sense to find a storage location that is closer to your destination. Luckily, Triangle Movers is a proud partner of the nationwide Stevens Worldwide Van Lines. Your storage representative can arrange a storage solution for you regardless of where you are traveling or relocating. It is one of the many benefits you get when you plan a move through Triangle Movers. For more information on the storage services we can provide for you, contact us today to speak with one of our storage representatives. We take pride in our exceptional customer service and will work with you in understanding your storage needs and budget. If you are planning a move or are looking for a storage option, fill out our online form today and receive a free moving estimate. We can offer you affordable and reliable month to month storage services. We have the space! Store your belongings with Triangle Movers!