Top Westchester Cities to Move to for NYC Commuters
As I'm sure you know, living in New York City can get expensive, and living in the city may not be the best option for some. This guide will help you determine if moving to the NYC suburbs is right for you and will provide a list of popular suburbs in Westchester County. Westchester County is located nearby New York City, and is a popular place to live for NYC commuters and those who want to be close to NYC. Not only can living in Westchester County be cheaper than living in NYC, but Westchester suburbs have their own unique charm as well.
Before determining which NYC suburb is right for you to move to, there are a list of things to consider. How far would you like to commute to work? Do you want to drive, or will you need public transportation? Do you like the feel, or the vibe of the suburb? Do you have children and want a good school system? What is your budget? Suburbs are usually cheaper than living in the city, but some suburbs are costlier than others.
Armonk, NY
Armonk is just 55 minutes from NYC and is a great place to move if you're a foodie. You can find brick oven pizza, local beer, farm-to-table cuisine, and homemade pasta, without having to go to the city. Armonk is also known as a nature hub, as it contains the beautiful Wampus Brook Park nature preserve, where you can find Wampus Pond and a plethora of hiking trails. The Kensico Reservoir is also a great place to visit for anyone who likes to fish. Additionally, the homes in Armonk are cheaper than most you can find in the city, and Armonk has an exemplary school system.
Larchmont, NY
With a population of 6,118, Larchmont is a small waterfront village. It is only 36 minutes away from New York City on the Metro-North. Larchmont is home to Manor Park, which is situated along Long Island South. There's a beach within the park, as well as walking paths and beautiful water views. There are many other parks that Larchmont residents can enjoy such as Hommocks Park, Flint Park, and Pine Brook Park.
Croton-on-Hudson, NY
Croton-on-Hudson has a population of 8,070 and is only a 50-minute train ride from the city. There are a variety of great places to eat like Hot Dippity Donuts, Justin Thyme Café, The Tavern at Croton Landing and more, so you won't miss the variety of food that New York City has to offer. Additionally, Croton-on-Hudson has access to nature in a way that New York City does not. Some great places to visit to get in touch with nature is the Teatown Lake Reservation, Paradise Island Park, Silver Lake Beach, and Senasqua Park. Croton-on-Hudson also hosts a few can't-miss summer festivals, like the Great Hudson River Revival, which is an annual folk music, art, and entertainment festival. The other annual festival is the Summerfest, which features music, American food, fund raisers and local artists.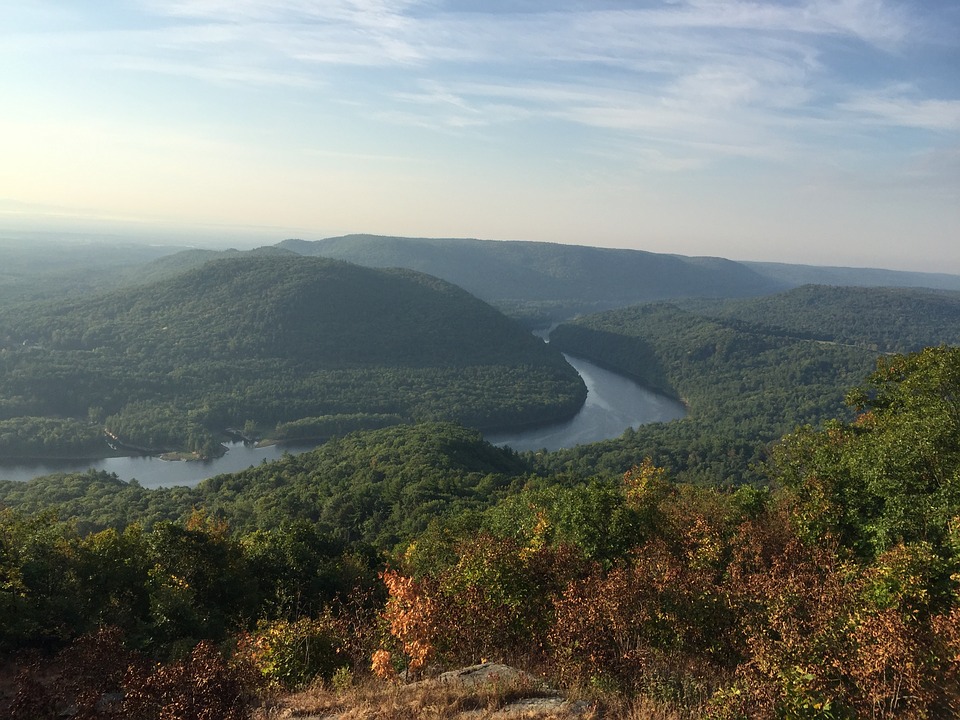 Yonkers, NY
Many residents of Yonkers use public transportation, and it only takes about a half an hour to go from Downtown Yonkers to Grand Central. This is a quicker ride than from some other parts of New York City, like Queens or Brooklyn. Besides being a short ride from the city, Yonkers is popular (it is the fourth most populous city in New York State) because the city is home to a number of exciting attractions, like the Hudson River Museum, which is an amphitheater, Yonkers Raceway, and more. Downtown Yonkers is also on the Hudson River waterfront, so there are plenty of things to do in the downtown area, especially in the summer. Downtown Yonkers is centered on Getty Square, a plaza that houses parks, breweries, and shops. Yonkers is also growing as there are a lot of new housing developments being built in the area.
Moving in Westchester County
Just because you don't live in the city doesn't mean that you must miss out on great eats and a plethora of things to do. Triangle Movers, Morris Moving & Storage, and Shleppers Moving & Storage are Westchester moving companies that offer services like local, out-of-state, and international moving to or from Westchester County, as well as storage services. Whether you are looking for a NYC suburb with a great school system to raise your kids or you want to live somewhere a little smaller than NYC, these suburbs may be the perfect place for you to move to.