Yonkers Local Movers

Are you planning a move in Yonkers, NY?
You can stop searching for the "best local moving companies near me," because Triangle Movers is the trusted name in local moving throughout Yonkers, Westchester County and the entire Hudson Valley. Since 1996, Triangle movers has been providing local moving, long-distance moving and international moving services to residents in Yonkers. We are ready to assist you in your local move!
Triangle Movers has years of experience in the moving industry, earning the reputation as one of the best Yonkers' moving companies. Triangle Movers is a local New York owned and family operated company serving the Hudson Valley. Our professional movers know how to properly handle, load, transport and unload all items in a safe and secure manor. With our moving services, you can rest assured knowing that your possessions will arrive at your new location in the same condition that you had left them.
Local Moving Services in Yonkers
Triangle Movers' local moving services will help you have a successful move in Yonkers, New York.
As full-service moving and storage company operating in Westchester County. Our Yonkers movers offer a wide range of local moving services to help you with every aspect of your move.
Ask one of our friendly moving representatives today about the variety of services we can offer for your upcoming move.
The Trusted Local Moving Company in Yonkers, NY
Triangle movers are the best local movers Westchester County has to offer. Other moving companies serving Westchester cannot compare to the local moving services we have. As the trusted Yonkers local moving company, we guarantee complete satisfaction at the conclusion of your move.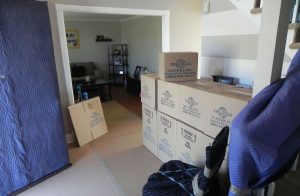 That is because at Triangle Movers, we are dedicated to providing our customers with the best customer service. The moving coordinator assigned to you for your move will take the extra time in understanding your moving requirements and will tailor a local moving plan specific to your needs and within your budget. We provide all our customers with accurate local moving estimates, so you know exactly the type of services you are getting and the overall cost for your move.
For more information on our local moving services contact us today at (845) 566-0288. To begin your next local move in Yonkers today, fill out our online form and receive a free local moving estimate. Triangle Movers is ready to help you with your next local move.