Quick Read
If you're moving to a new apartment in the Hudson Valley, call on the local moving company that has been serving this area for more than 30 years. Triangle Movers Inc. is the trusted apartment moving expert for Orange, Dutchess and Westchester County, NY. Let our family help you with your next relocation. Our services include:
Safe, secure, convenient warehouse storage
Furniture disassembly and reassembly
Protection and padding for your home and furniture — so you can get your security deposit back
Professional packing services available
When hiring a full-service mover, choose a company that is:
A+ rated by the BBB
Fully licensed and insured
Family owned and operated
For more information on our range of apartment-moving services, call us at (845) 566-0288. To begin planning your next apartment move, fill out our online form and receive a free local moving estimate.


Are you planning on moving apartments in Orange, Dutchess or Westchester County?
Since 1996, Triangle Movers has been providing professional moving services to residents and families in the Hudson Valley. Our staff is dedicated to complete customer care.
One of our friendly representatives will work with you to create a moving plan that matches all your requirements and stays within your budget. We are the experts in local and long-distance moving, so whether you are a student leaving your college apartment to go back to your home state, or a resident looking for an apartment closer to work, we have you covered.
Apartment Moving Services throughout the Hudson Valley
Triangle Movers can provide you with a full-service move that covers every step of your moving process. We offer a variety of additional services that can be added to your overall moving plan.
Packing and Unpacking Services: If you don't have the time to do the packing yourself, we can offer you a helping hand. With our best packing supplies, your household goods will be safely packed and ready for transportation. With years of experience, we have learned the best methods and practices for keeping your belongings organized, so unpacking will be a breeze.
Home Pickup & Delivery Storage: In most apartments, you may not have the needed room for all your possessions. That is why we offer home pickup and delivery storage options for your convenience. Just choose what you wish to store, and we will pick them up directly from your apartment. When you are ready to get them back, just give us a call and we will drop them off at your doorstep.
If you are moving in a hurry, ask about our same-day moving services.
Local Apartments & Rental Homes
Local realtors have described the rental scene in Hudson Valley as hot, with high demand for apartments and rental homes in the following communities:
Dutchess County

Hyde Park
Pleasant Valley
Rhinebeck
When you're ready to move out of or into your apartment, count on the experienced team at Triangle Movers to navigate the complexities of planning and executing an apartment move.
Our Apartment Moving Tips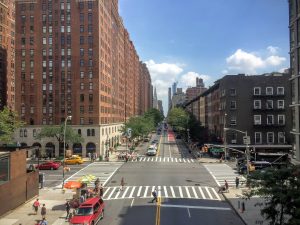 Apartment moving is different than your typical residential move. With specific rules and guidelines to follow when moving out, Triangle Movers works with your building's operations manager to learn about any timeframes and rules to relieve you of the extra work.
We know that any damage that occurs during your moving day can jeopardize your security deposit. Our team goes the extra mile to ensure no damage to your building's interior occurs by:
Using additional padding
Training our movers to navigate tighter spaces
Utilizing protective equipment
The same protective measures are also taken with your household goods. We have the equipment, expertise and resources for navigating hallways, stairwells and elevators in an effort to prevent any damage from occurring to your possessions.
Free Apartment Moving Estimates in Orange, Dutchess & Westchester County
When you are looking for apartment moving estimates, the choice is clear. Choose Triangle Movers to get you out of your current building and to your new destination with ease.
Give us a call at (845) 566-0288, one of our moving relocation specialists can provide you with more information or fill out our online form to get your free apartment moving estimate.